Herbal Massage compresses: healing in harmony with nature
1 novembre 2019 16 h 00 min

-

18 h 30 min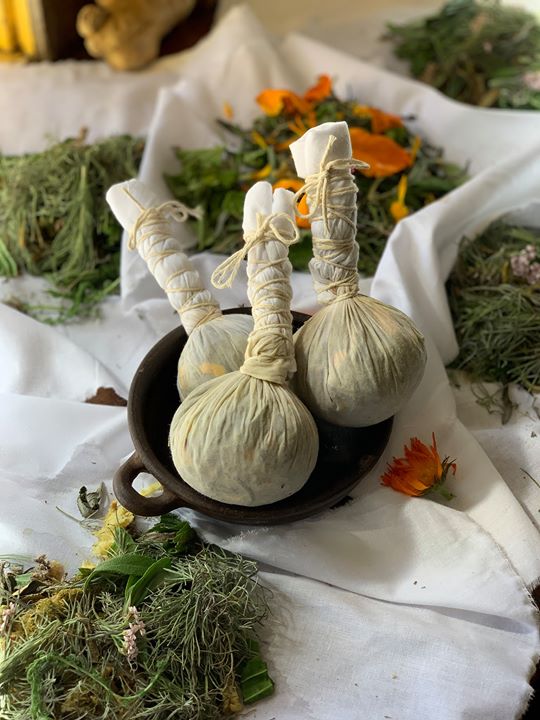 *english below*
Apprenez les utilisations thérapeutiques de plantes et d'herbes spécifiques. Créez votre propre compresse de fines herbes et apprenez au sujet du massage des herbes de vapeur. Relâchez la tension au niveau énergétique et physique, en mettant l'accent sur le bien-être et l'équilibre émotionnel des femmes.
contribution : 22€
places limitées ! pour demandez plus de information ou pour réservez votre place, s'il vous plaît envoyez-nous un email à : alessazuluna@gmail.com
Enseignante :
Micha Merrick utilise les techniques du yoga et du massage thaïlandais pour aider les femmes à accoucher naturellement. Elle a été témoin à maintes reprises de la force sauvage et la grâce de la nature féminine, créant des cercles de soutien pour les femmes par le chant, la danse, les plantes et le massage.
Elle est certifiée internationalement Birth Doula qui a enseigné le yoga prénatal au Bumi Sehat Birth Center à Bali en Indonésie. Micha pratique le massage thaï dans la lignée d'Ashokananda et combine la sagesse des guérisseuses traditionnelles, des herboristes et des sages-femmes chamaniques des tribus des montagnes de Thaïlande et de Bali. Actuellement elle vit à Big Sur, en Californie.
Plus d'info sur Micha : http://www.simplegraceyoga.com
organisation et soutien :
Alessa a récemment déménagé de Barcelone à Lyon où elle a étudié et enseigné le yoga pendant les neuf dernières années. Elle est professeur de yoga vinyasa, yin, prénatal et postnatal. Elle est également certifiée en massage yoga ayurvédique, massage thaïlandais et massage aux herbes, ayant étudié avec Micha et l'ayant soutenu dans ses deux formations précédentes.
Plus d'informations sur Alessa : https://alessazuluna.wordpress.com
*english*
Learn the therapeutic uses of specific plants & herbs. Create your own herbal compress and learn about herbal steam massage. Release tension on the energetic and physical level, with a special emphasis on women's wellness and emotional balance.
contribution: 22€
limited spots! for inquires or to save yours please email us at: alessazuluna@gmail.com
Facilitator:
Micha Merrick is using techniques from yoga and Thai Massage to help women deliver babies naturally. Time and again, she's seen the wild strength and fluid grace of feminine nature first hand, creating circles of support for women through song, dance, herbs and massage.
She is an internationally certified Birth Doula who served as a prenatal yoga teacher at Bumi Sehat Birth Center in Bali Indonesia. Micha practices Thai massage in the lineage of Ashokananda and combines wisdom from traditional women's healers, folk herbalists and shamanic hill tribe midwives in Thailand and Bali. Currently based in Big Sur, California.
More info on Micha: http://www.simplegraceyoga.com
Organization & support:
Alessa has recently moved to Lyon from Barcelona where she has studied and shared yoga for the past nine years. She is a vinyasa, yin, prenatal & postnatal yoga teacher. She is also a certified in Ayurvedic yoga massage, Thai and herbal massage having studied and supported Micha in her past two trainings.
More info on Alessa: https://alessazuluna.wordpress.com